Bare Backstreets (V 0.7.1)
New Public Build (v0.5.5)!
---
[Download the new build here!]
We have two updates planned this month, one focusing on optimizations and getting things ready to port the game to android, the other adding new sex scenes and reworking stage design. We have pushed our optimizations to the public build now as some laptop players have been having trouble getting the game to perform well past the character select. Our suspicions is the game was eating too much VRAM, but we went ahead and optimized everything across the board to allow as many fans as possible to play!
The game now averages 0.8GB of ram while playing. We have still set the recommended to 2 as a safety net for your background system processes. Here is our stress test list thus far, performed by lead programmer Rearmed:
• 2018 - Dev GeForce GTX 1070, 8gb vram 16gb ram 2.2ghz processor : Playable
• 2011 - Gaming GeForce GTX 670MX, 6gm vram 8gb ram : Playable
• 2008 - Gaming AMD Radeon HD 5700, 4gb vram 2gb ram 3.4ghz processor : Playable
• 2008 - Basic Intel HD Graphics 3000, 1.5 gb vram 4gb ram : Unplayable
We will continue to squeeze out performance for the game as we aim to get everything working for mobile users. If at that point certain players are still encountering problems, it may be recommended playing on your phone as your laptop may be a toaster!

Mobile Functionality Sneak Peak!

You'll soon be able to play BBS with your thumbs and a touchscreen! The final look of the UI will likely change as we get closer to the finish line. We have never had a game working on android before so this will be a big achievement for the team once it's fully functional!
Modular Stage Generation!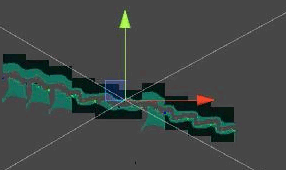 We are planning to simplify the way stages are currently designed, as spawning the player in a random location in a maze didn't add much to the gameplay. Instead, we are simplifying stages down to a single horizontal plane, with your goal always being placed at the end of a series of rooms ranging from platforming challenges, NPC interactions and wave clearing.
The new layout will make it much easier to design art assets to blend the background and foreground elements together, while also giving the optimization benefits of unloading previous chunks from the players memory as they advance to the right. It appears BBS is returning to it's roots, getting closer to a traditional side-scrolling beat 'em up!

Users with Login Difficulties

We have received a few notes that the offline Patreon/Subscribestar login has been causing issues. We believe this is due the CSV in which we use to download the latest supporter list being out of date for our new supporters. We will now refresh our offline list every week to keep it as up to date as possible. If you are still having problems with your account, you can use these credentials instead:
Username: LoginFix
Password: [Here] (Only visible for active supporters!)


Stay tuned as we will have some new NSFW animations coming later this month!
------------------
V 0.5.5 (November 7/2020 - Week 21):
• Major performance improvements
• Changed build architecture to 32-bit.
• Increased stamina regen.
• Reflected projectiles now damage enemies.
• Miscellaneous bug fixes.
Files
BBS - 2020-11-10 - v0.5.5--.zip
173 MB
Nov 11, 2020
Get Bare Backstreets (V 0.7.1)